Carlos P. – 2017-18 National Youth of the Year,
New Jersey Youth of the Year, Boys & Girls Club of Clifton
Since being named the 2017-18 National Youth of the Year last September, Carlos has traveled around the country serving as the voice and spirit of hope for four million Boys & Girls Club youth. As the Boys & Girls Clubs of America's teen spokesperson, Carlos is educating millions of Americans about the power of the Club Experience, and elevating key issues facing kids and teens. His duties include serving as a teen thought leader, meeting with political, corporate and community leaders and appearing at various events.
Carlos' Youth of the Year journey has been a truly memorable and rewarding experience so far. Some highlights include meeting Senator Cory Booker, Denzel Washington, Lady Gaga, Magic Johnson and Mrs. Robinson (the late Jackie Robinson's wife). Carlos received more than $140,000 scholarships, a new car from Toyota that he custom built, a trip to Disney with his family where he met Whoopi Goldberg, and a visit to Los Angeles where he carried the game ball out to the pitcher's mound for the World Series. He was featured on Extra TV with Mario Lopez, Boys & Girls Club alum. Carlos also received a proclamation from the Mayor of Clifton, his hometown, declaring December 19th as "Carlos Day" in Clifton, NJ. Carlos also had the privilege to serve as an intern with Samsung Electronics America in their Corporate Citizenship department over his winter holiday school break.
Carlos is the first in his family to attend college and is currently a freshman at Dartmouth College. His "American dream" is to become a Supreme Court Justice.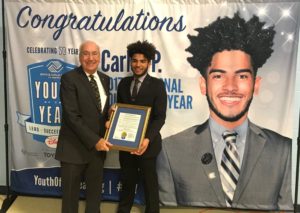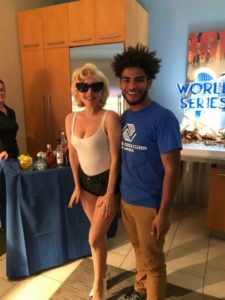 "My Club has taught me that I can be whatever I want to be.
I should always dream big and go get it.
I am ready to represent our dreamers."
-Carlos P.