On September 26, 2017 Boys & Girls Clubs of America named Carlos P. National Youth of the Year in a ceremony held at the National Building Museum in Washington, D.C. He accepted the honor before an audience that included members of Congress and Boys & Girls Clubs of America partners and supporters, including event emcee, actor and Club alum Nick Cannon and Grammy-award winning musician Kelly Rowland, among others.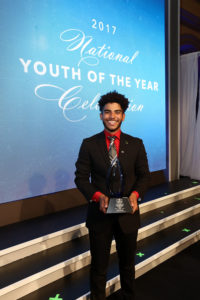 Youth of the Year is Boys & Girls Clubs of America's premier recognition program for Club teens and the National Youth of the Year title is the highest honor a Club member can receive, representing the voice of four million Club youth.
At age 5, Carlos and his family moved from the Dominican Republic to the United States. Learning the English language as a first-grader is when he first started to realize the importance of education. But he truly found his passion for education when he joined the Boys & Girls Club of Clifton in 2012.
While he used to pick up his little sister from the Club's summer camp, Carlos wasn't looking to become a member himself. But after seeing all the Club had to offer, he did want to join. At the Club, he had a knack for making others feel better and was always looking to help out. Over the course of two summers, Carlos volunteered more than 550 hours as a mentor to 6-year-old campers.
A National Honor Society member who finished in the top two percent in his graduating class, Carlos is proud of his academic success, and no less proud of his community service achievements. To provide representation to his high school's education committee, he co-founded the Clifton Student Union – run entirely by students for students. In this capacity, he addressed the lack of AP classes and led a peaceful march of more than 350 students advocating for fair funding.
Carlos recently enrolled at Dartmouth College, the first in his family to pursue a secondary education. His dream is to become a Supreme Court Justice.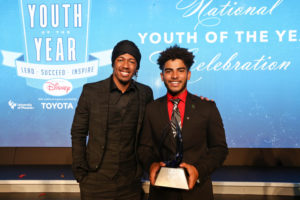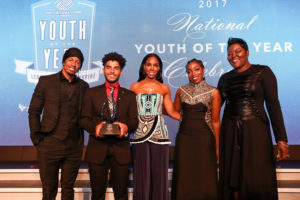 Celebrating its 70th year, the Youth of the Year program has recognized young people for their outstanding leadership, service, academic excellence and dedication to living a healthy lifestyle. The Youth of the Year program is presented by Disney with support from signature partner Toyota, along with additional partners Taco Bell Foundation and University of Phoenix. The National Youth of the Year will receive $145,000 in academic scholarships, as well as a trip to Disney World and a brand new Toyota Corolla. This year, the Youth of the Year program will award more than $1 million in scholarships to Club teens.
"Carlos symbolizes seven decades of youth leaders that have found a great future with Boys & Girls Clubs," said Jim Clark, president and CEO of Boys & Girls Clubs of America. "Youth of the Year recognizes teens who demonstrate the critical impact that Clubs, and thousands of youth development professionals working at Boys & Girls Clubs around the country, have on the lives of young people. Carlos will be an incredible voice, advocating for the needs of all young people in our country."
Read More about this event here: Boys & Girls Clubs of America Names New Jersey Teen Carlos Polanco National Youth of the Year
Please join us in congratulating Carlos who is a role model for the 4 million youth served by Boys & Girls Clubs each year and all our nation's young people.