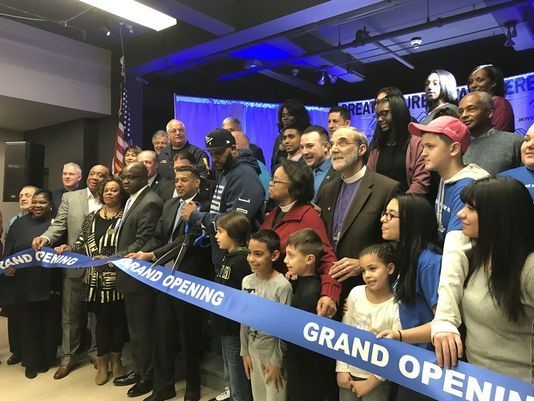 The Boys & Girls Club of Lodi was created in 1951 to provide a safe haven for children in Lodi who were unsupervised. In 2003, the Club was expanded to serve young people in Hackensack. In February, the Club announced that the Boys & Girls Clubs of Lodi & Hackensack will be opening a new facility in the Township of Teaneck.
The organization is strongly positioned to establish a successful and effective Teaneck Clubhouse. To meet the academic, social and emotional needs of members, the Club provides an array of programs based on Boys & Girls Clubs of America's Formula for Impact, which includes the areas of Academic Success, Healthy Lifestyles, and Good Character & Citizenship.
Elected officials, community members, and Yankees pitcher CC Sabathia cut the ribbon to open the new Boys & Girls Club in Teaneck on February 3. The Teaneck Club's afterschool program will run from 3 to 7 PM, and will offer computer labs, homework help, art, cooking, sports, and mentoring programs as well volunteer opportunities in the community. The Club will also offer a unique feature — a music and digital audio program. The new Club location includes six rooms, two kitchens and outside play area to serve approximately 150 children.
To learn more about the Boys & Girls Clubs of Lodi/Hackensack/Teaneck, go to https://bgclbergen.org/about-us/