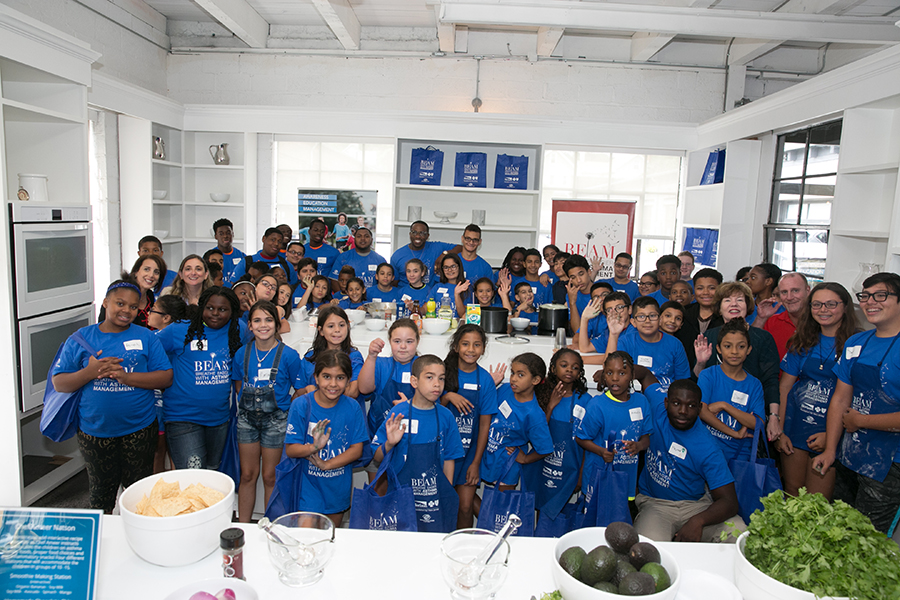 On August 8
th
, Boys & Girls Clubs youth from across the state enjoyed a great day of fun-filled activities that delivered a breath of fresh air and highlighted the importance of asthma awareness. The Horizon Foundation for New Jersey in collaboration with the Boys & Girls Clubs in New Jersey, celebrated the success of the third year of the Breathe Easier with Asthma Management (BEAM) program. As the leading cause of school absences, asthma affects more than 7 million children in the U.S and close to 200,000 children in New Jersey. BEAM aims to improve the health and quality of life for children already suffering from asthma, teach kids without asthma about the disorder, increase awareness of the disease and offers effective management tips. Through BEAM, kids and their parents or caregivers are provided with education to prevent future health issues and costs associated with asthma.
Only 56% of the state's children ages 5 – 12, diagnosed with asthma, have a treatment plan. And even worse, the same percentage of youth who are utilizing quick relief medications are not using them properly. New Jersey hospitals report nearly 19% of kids ages 5 – 12 with current asthma had an asthma related emergency room visit in the past year. The numbers are only slightly better for the state's teens ages 13 – 17 with sixty percent of the state's teens with asthma having a treatment plan. In addition, only 53% use their quick relief medication correctly.
The event featured a passport program where BEAM students earned stamps for completing a series of fun and educational activities that reinforced what they learned in the curriculum. Club youth participated in:
A cooking demonstration led by former Boys & Girls Club of Newark alumni, Ameer Natson. The celebrity chef and TV personality will lead an interactive cooking demonstration that focuses on healthy food choices and recipes children can make on their own and that combat the symptoms of asthma and reduce inflammation.
Exercises that demonstrated the effect of healthy breath will be highlighted using straws of different sizes to blow pom poms, as well as relay and three-legged races.
Arts and crafts projects that included "make your own mucus" and "bronchial binoculars" to reinforce the physical symptoms associated with asthma.
"The Horizon Foundation created its signature program, BEAM, to improve the quality of life of children with asthma and those who may acquire asthma, said Joan K. Hollendonner, Senior Program Officer, The Horizon Foundation for New Jersey. "We are proud of the success of the program. Based on the consistently positive evaluation results for Phase 2, the Foundation invested another $600,000 to continue the program, bringing our total investment to $1.7 million."
Now in its third year, the BEAM program has expanded since its inception to reach nearly 8,000 New Jersey children ages 5 – 18 years. This academic year alone, the hands-on educational asthma awareness program has reached 2,800 children at 20 Boys & Girls Clubs at 57 different locations in 14 counties across the state.
The evaluation results of the program were consistently strong, demonstrating a substantial and sustained increase of participant knowledge about asthma and its management, and that the program is engaging and enjoyable.
"Breath affects every aspect of life, and for children, this vital function informs their ability to grow and learn," said Susan Haspel, Boys & Girls Clubs in New Jersey, State Director. "By helping families identify whether the child has asthma or helping them manage a diagnosed condition, our children can thrive. We are committed to enabling New Jersey children to reach their full potential in all areas."
Quotes about the BEAM program from Boys & Girls Club in New Jersey members:
Jayson R., Age: 13, Boys & Girls Clubs of Union County:
"It was fun learning about things that can trigger someone's asthma. I learned that cigarette smoke, pollen, mold, cold air and strong smells like perfume can all be asthma triggers."
Honney W., Age: 12, Boys & Girls Clubs of Paterson & Passaic:
"Because of BEAM I was able to help my friend from having an asthma attack during gym class. I knew all the proper steps to take and helped her get to the nurse."
Faith, Age: 8, Boys & Girls Club of Newark:
"My friend and I were playing outside. He has asthma and he started to breathe really hard. I told him to stop, sit down and rest. Then he felt better."
Kellous N., Age: 8, McGuire Youth Programs:
"I had an asthma attack at school but I learned what I needed to do from OAS. I was outside playing, and I noticed my chest tightening up. So, I asked my teacher to go see the nurse. I also remembered being shown a peak flow meter in the BEAM program, and I didn't have one. I went to the drug store with my mom and we saw one. I told her that I was taught that I could breathe into it to measure my breathing and to help monitor my asthma. Then my mom bought me one."
Lyric Y., Age: 8, Boys & Girls Club of Atlantic City:
"I really liked the BEAM classes. It helped me know what to do when my sister has an asthma attack. Once my sister was having an asthma attack and my mom was in the other room. I ran to the kitchen to get her medicine. Then I also helped her get hooked up to her machine. I learned how to Belly Breath in class and this also helped my sister to calm down."
Imani, Age: 10, Boys & Girls Clubs of Gloucester County:
"I learned that a change in weather can affect my breathing because I have asthma, along with other things that can trigger an asthma attack."