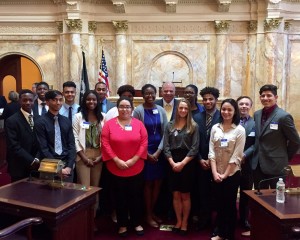 NJ Youth of the Year Finalist with Senate President Stephen Sweeney in the Senate Chamber
On Thursday, May 18, 2017, New Jersey Youth of the Year finalists from across the Garden State had an Senate President Press releaseunforgettable afternoon at the State Capital in Trenton. The youth were honored at a luncheon at the State House. The teens had the great privilege of hearing inspiring stories and words of high praise from state leaders including Senate President Stephen Sweeney, Assemblyman Declan O'Scanlon Jr., Senator M. Teresa Ruiz, Senator Raymond Lesniak, Senator Nilsa Cruz-Perez, Senator Gerald Cardinale, Senator Jim Whelan, Senator Steven Oroho and Kevin Drennan, Executive Director, Senate Majority Office.
Senator Sweeney's office, issued a press release (link to release), and teens got to take photos with the Senate President in the Senate Chamber. Senator Sweeney said in a tweet, "It was great meeting so many amazing @bgcnj members. These "Youth of the Year" candidates are an inspiration and sign our future is in great hands."
BGCNJ partnered with Comcast who supported the Youth of the Year Legislative lunch as well as provided video production at the Statehouse and other Youth of the Year events. Comcast's Kimberly Smith, Director, Government & Community Affairs and Fred DeAndrea, Director, Government Affairs, spoke to the teens and were extremely impressed with each and every one of them!
Bill Maer of Public Strategies Impact, provided the teens with an overview of state government, current legislative issues and a tour of the State House.
It was a truly memorable day for the NJ Youth of the Year finalists to have the opportunity to share their stories and meet with key state leaders at the Capital.
Press Release from Senate President Sweeney